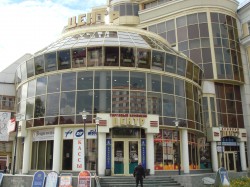 "Company Solovki"
"Company Solovki" founded 01.11.2001.
Our specialty is extensive: tours to Solovki, a cruise on the Solovki, tourist complex in Solovki, Turkey, Egypt, Spain, Finland, from Archangel, tours abroad, catering, retail, traveling, tourism activities, organization of excursions for groups and individuals, as well we are working towards corporate services for tourists.
We are the owners of the hotel accommodation facilities in the Russian North, as the tourist complex "Company Solovki" on the island of Solovki, the hotel "Kargopol" in the eponymous city of Arkhangelsk.
Our company, along with other leading travel companies and leading enterprises of hotel business, is part of the NGO "The Arkhangelsk Regional Tourist Association" (ARTA). We are also a member of the independent NGO "Association of Hospitality Solovki."